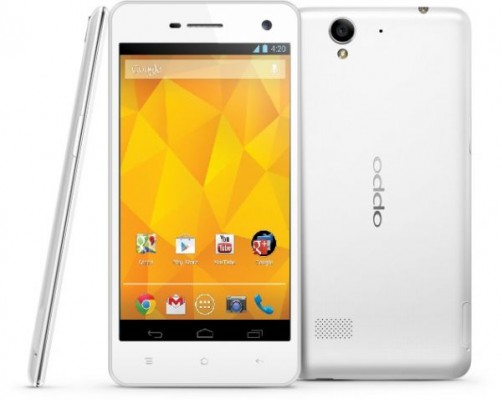 The newly launched Oppo R819 gives you the option to run, the most preferred ROM out of the crowd, "the untouched" stock Android. Companies spent so much effort modifying the stock ROM and giving you a brand-customized GUI, and apps; then again an equal amount of effort is spent by developers to port stock android to the device, the new Oppo exactly breaks this cycle.
The amazing response Google editions phones have got, proves that people want to taste the stock Android. They want it as Google intended it to be. For some reason they believe that its is faster and lag free than any company customized ROM. Nevertheless, the Oppo does come with two more ROMS, the default Oppo ROM(preinstalled) and the 'color ROM', which the company claims to be "fresh take on Android that was developed with OPPO fans". The choice of ROM can be made while purchasing it.
On the specs side this dual-SIM phone boosts a 4.7-inch 720p IPS display with an overall PPI of 312, a MediaTek quad-core 1.2GHz chipset, 1 GB of RAM, 16GB of storage, an 8MP BSI rear camera with LED flash, a 2MP front camera, a 2000mAh battery, all this with Android 4.2.1. With a 7.3mm thickness, it might not be the thinnest device around, but weighs 110g. The device also adds innovative features like gestures control, for taking up calls and silencing it.
One may not go for the not-too-good-not-to-bad hardware of this China based phone, but for the easy ROM variation it is to offer, which is pretty unique in its own way.
While the company hasn't mentioned an availability date, till then the R819 16GB, White version is available for preorder from their website at $349 in the USA which will be shipped in early September.