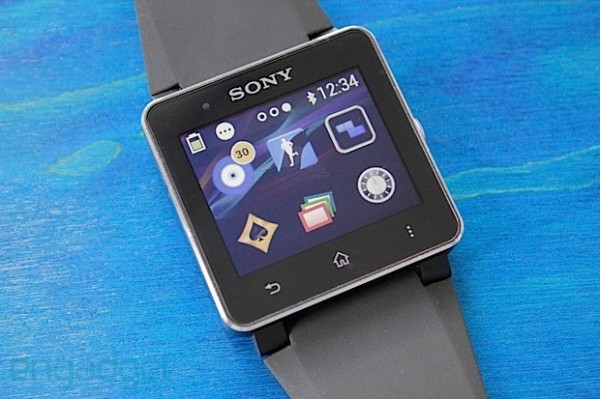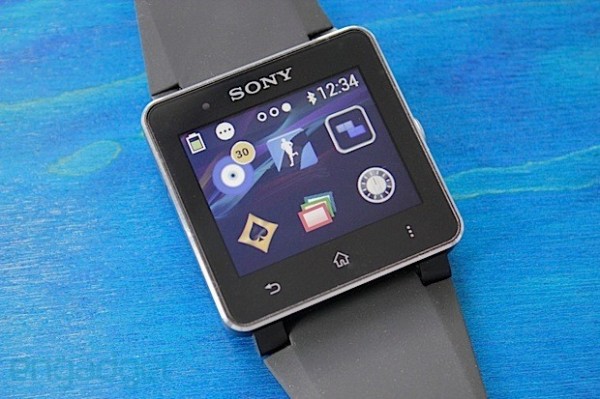 Go back into the period between August and October 2012 and people barely talked about smartwatches . We discovered a curious Google patent but that was pretty much what we could find. After a period of 1 year, nearly 40 news stories about smartwatches could be found in popular tech websites like Engadget .There has definitely been a change .
Sony has built a device based on wrist-band technology which is the all new Sony Smart Watch 2 . The last name indicates the company's second foray into the wrist-band battle. Since Sony is an established players in the tech market , we expect rather a lot from  it. So, can Sony succeed with the Sony SmartWatch 2?
Hardware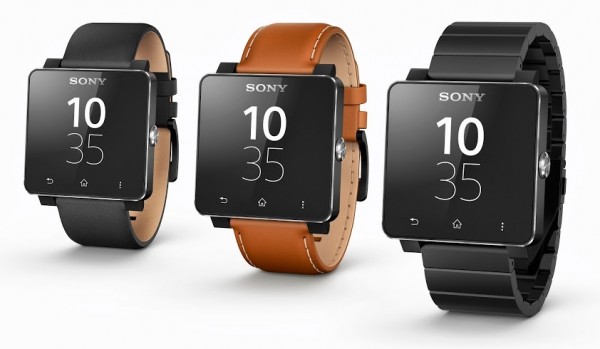 Watches have a tough job from the very beginning. Not only must they fulfill their functional duty, they must also link with the current style and fashion. A good watch must stand up for both tasks. The strap on the model is made out of basic rubber which is practical, soft and comfortable. But, it is not at all vibrant.  the Sony SmartWatch 2 won't fit for all occasions and outfits but you can spice things up by changing the straps, including metal and leather ones shown above.
The Sony SmartWatch 2 has a 1.6 inch display and it has a sunlight readable screen on the bottom of which there are three capacitive buttons that you can find on the Xperia series which is the back, home, and menu button . In brief, this is how you will interact with the SmartWatch in addition to the main touchscreen. It's acceptable for general use and matches, what you'd  expect from a device like this.
On the right-hand side of the Sony SmartWatch 2 there is an aluminium power button which is used to swithch the device on and off and also used to wake the watch to activate the touchscreen.  The remaining piece of hardware is the mini-USB port which has a sealed cover much like the Sony Xperia Z and Z1. There is a reason for it being sealed because it is also water and dust resistant just like the Sony Xperia Z and Z1.
For connectivity, the Sony SmartWatch 2 has Bluetooth 3.0 and NFC. It is also equipped with a single-core ARM Cortex-M4, clocked at 180MHz.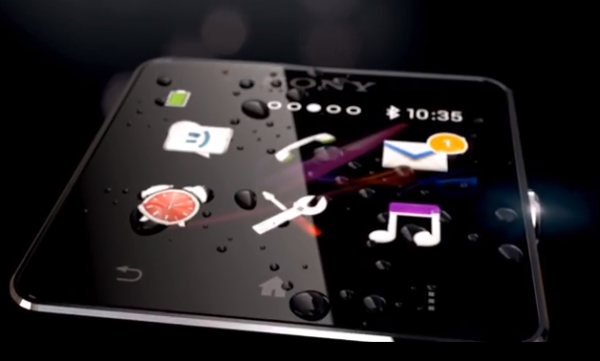 Software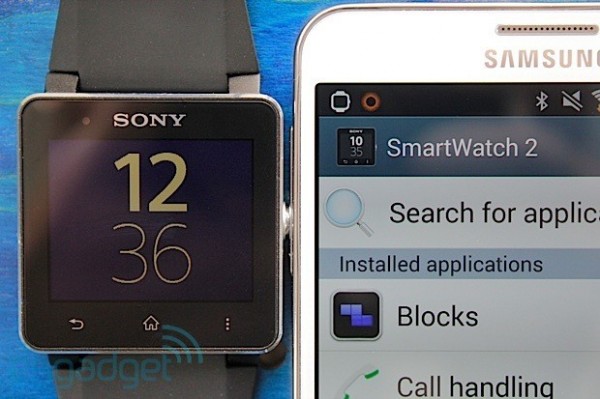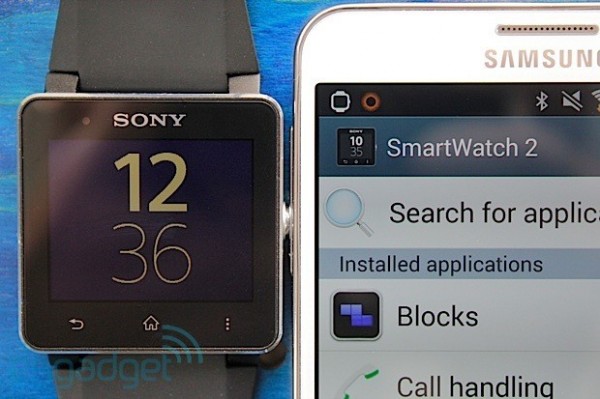 Most smartwatches rely heavily on the phone from which they receive notifications. They require an app on the host phone for configuring the Smartwatch. The huge advantage the Sony SmartWatch 2 has over the Samsung Galaxy gear is that the Samsung Galaxy Gear supports only a limited number of devices while the Sony SmartWatch 2 supports all Andriod devices that are running Android 4.0 and above.
Camera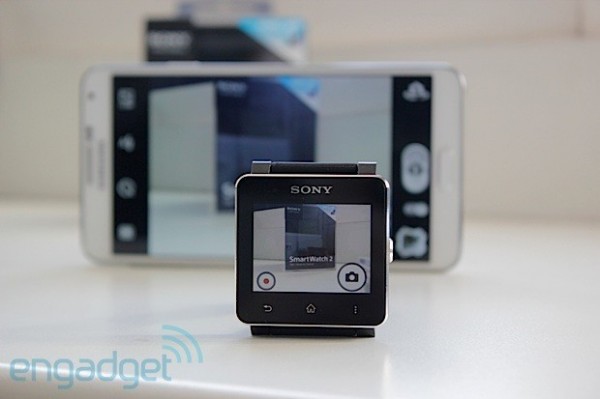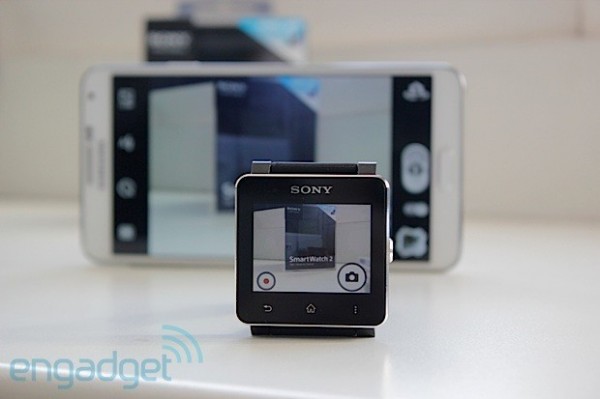 Since there is no camera or microphone integrated into the Sony SmartWatch 2, it relys on the camera  of the host phone  as shown above. There are a collection of over 100 apps optimized for the Sony SmartWatch 2.
Applications and Notifications
Naturally, notifications are key with smartwatches. However, some may not like reading their texts or emails on their wrist but a phone makes it a lot easier to read and text messages . It usually shows enough information and Gmail notifications helps you to show the Email sender. If you are hoping to scroll down the whole message, you are out of luck.
As for social networks , Both Twitter and Facebook  can be a little spammy. But on the plus side, they show you short-worded messages which are sent to you. Both of these apps will notify you, manage  the updates and will trigger the notifications making these apps responsible and easier to tailor to your needs.
Despite these impressive features, some sites don't have official apps like Google+ and Instagram. A new app called Watch it helps you to get notifications from pretty much any app you like including messaging apps like Line and Whatsapp.
While wearing the watch while driving, it may be difficult to see text or news that are important to you while you are steering. But you just have to twist your hand to see the news or text.
If a call comes to you, there is no speaker or microphone you can only answer or reject the call. If you are wearing a Bluetooth headset and have a hand full of groceries or something you can reject calls swiftly.
Performance and Battery Life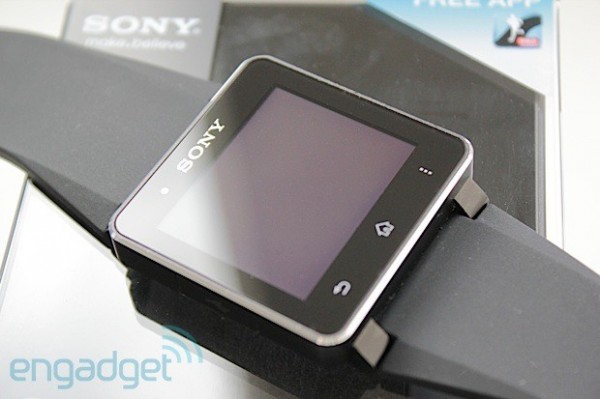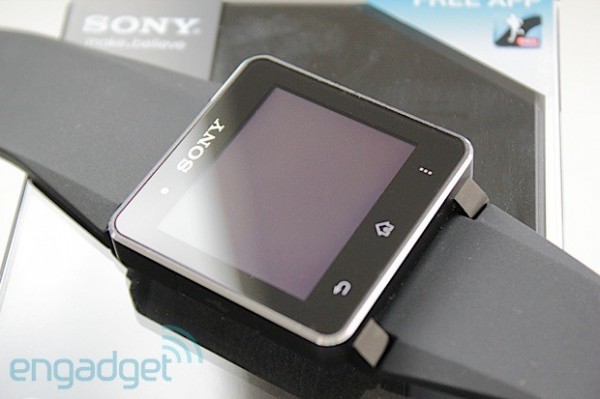 The SmartWatch was designed to fill a very small and important gap in our lives. The gap between our hand and our pocket. The time part is hard to criticize. The display is sunlight readable even if it is not backlit. Just a little glance from your wrist is quit enough to understand if you are late are not. Even the Samsung Galaxy Gear did not quite nail this part because it required a push of a button, or required you to perform some gesture.  Generally, the touchscreen is responsive enough. Scrolling isn't as swift as you would expect but it is not excessively sluggish by any means. However, taps do not always register. You'll find yourself tapping the touchscreen once or twice if unsure you have tapped correctly.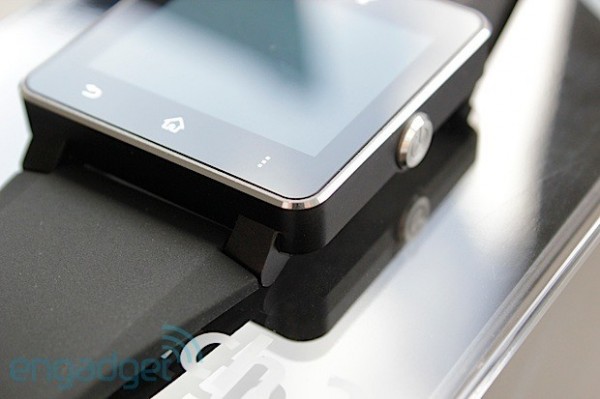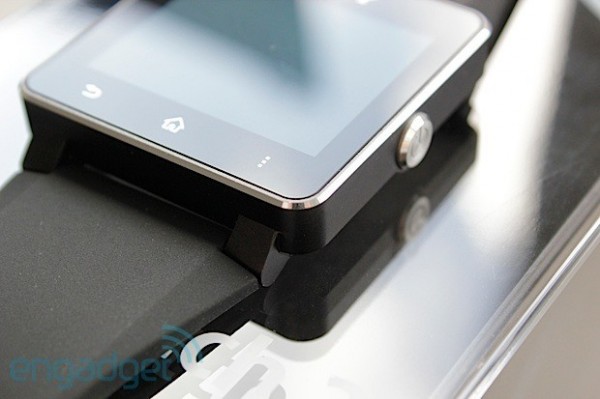 On the Pro side, the time that the Sony SmartWatch 2 takes to recharge from empty to full is half an hour. It recharges so fast that you could almost see it fill up in front of your own eyes. This is also a huge advantage over the Samsung Galaxy Gear.
Sony has also made the User Interface really simple. Essentially, if you know how to operate a smartphone, you can certainly operate the SmartWatch 2.
The Verdict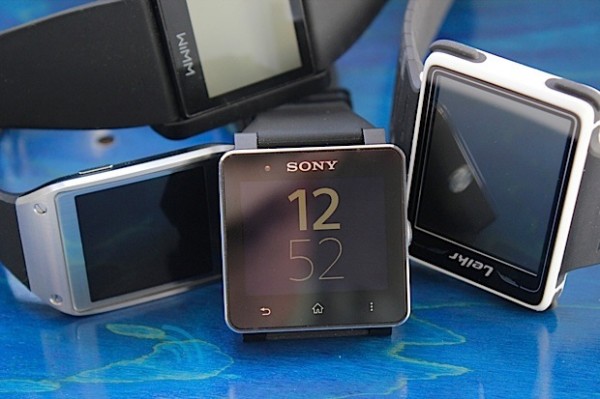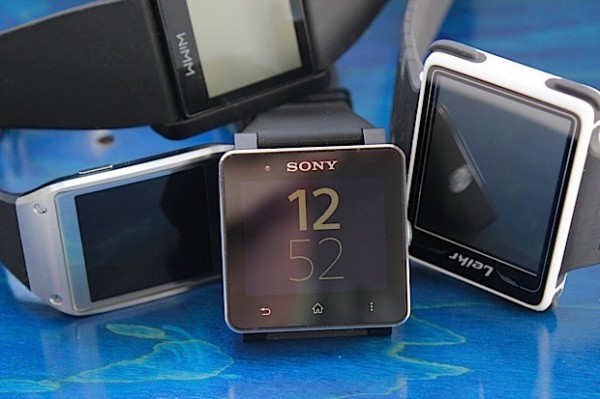 At $200, the Sony SmartWatch 2 is a lot cheaper than it's most obvious competitor, the Samsung Galaxy Gear. It's other competitors include,  Pebble, the most successful Kickstarter campaign the world has ever seen. In brief, the Pebble's strengths are its price ($150) and battery life (about a week of use) and a healthy app developer community. The Nike Fuelband, and the I'm Watch. The Sony SmartWatch 2 offers a reasonably good notification solution, as well as the potential for improved functionality with future apps — though it's probably best to check what's available first. It is certainly better than the Samsung Galaxy Gear in terms of both performance and price.