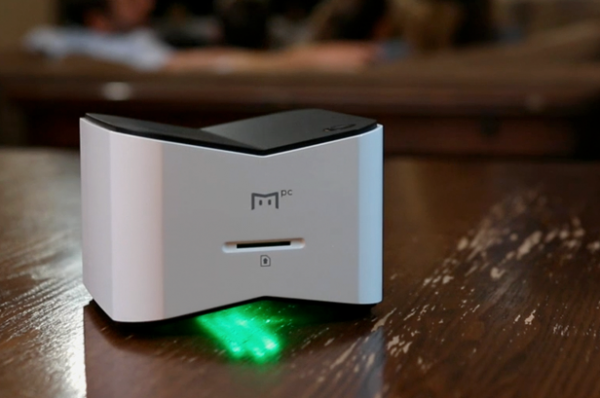 Whether Google likes it or not, Android seems to be on the rise on mini ARM-powered PC's, despite the fact that Android is far from being that optimized on large screens. Projects such as the MiiPC are starting to prove that Android is destined for a lot more than just smartphones and tablets. But this trend would accelerate that much faster if Google was actually behind it, rather than trying to sabotage it. Right now, Google still seems to prefer Chrome OS over Android on notebooks and PC's. What's strange though is that lately they've added a touchscreen to the Chromebook Pixel. Chrome OS is not an OS that is optimized for a touchscreen, so either they intend to somehow use Android alongside Chrome OS, or that's just another one of Google's strange moves.
The MiiPC Android PC
The MiiPC is a Kickstarter project that wants to address the kids market with cheap Android PC's that only cost $99. For that price you can't expect a lot of performance under the hood, although the specs seem pretty decent:
Marvell New Armada Dual Core 1.2GHz SoC
1GB RAM
4GB Internal Memory (expandable via SD Slot and USB port)
WiFi (802.11 b/g/n), Ethernet Port, and Bluetooth 4.0 connectivity
2 USB 2.0 Ports, Speaker & Microphone Jack,
HDMI (1080p/720p) output
The MiiPC also seems to target parents who want to know what their kids are doing on the PC, being designed with strong parental controls. As a parent, you can view remotely on your own smartphone, if the kid is using a certain Android app or if he's browsing the web. MiiPC is just another Android PC, with a new twist, that shows us that people are starting to take Android seriously not just as a mobile operating system, but one that can be used for larger screens, too.
If Google would decide to support this trend, and give Android a more optimized user interface for PC's, you'd see a much bigger adoption of Android on PC's, perhaps to even rival Windows on PC's. With Canonical's recent push into PC's, smartphones and tablets, I could see Google starting to think more seriously about this, and not just allow Ubuntu to take the opportunity from them to be the one OS for all form factors.