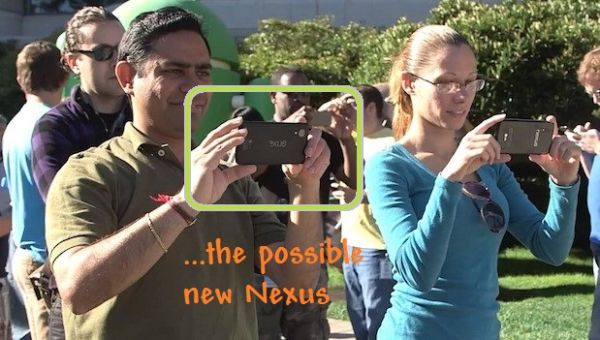 This just an awesome week full of so many confirmed News and leaks: Verizon buys Vodafone's stake for $130 billion, Microsoft buys Nokia phones for $7.2 billion, Apple iPhone 5C in video and photos, Google announces Android 4.4 KitKat, and now Google might have accidentally leaked the new Nexus device we all had been waiting for.
Google had posted a video of the unveiling of the statue of the new Android mascot made out of KitKats at the firm's Mountain View, California, campus. Since Google had kept this even from most of the employees, you can imagine how over joyed they were to see the new Android mascot. They were clicking photos, taking videos, and having specially manufactured Android KitKats.
Now during this celebration, one of the Google employees is seen with an unannounced device, that too with the Nexus branding. Now there is no harm in assuming that this could be the new Nexus, may be the upgraded Nexus 4 or may be the Nexus 5. You can jump to 0:38sec of the video to see a glimpse of this device. The points worth noticing about this device are :
Unannounced device
Nexus branding in vertical just like the new Nexus 7
A matt finish back, again like the Nexus 7
Smaller than the Nexus 7, might be 5inch screen size
A large camera lens, with flash
Looks like a 5inch Nexus 7
An LG logo at the bottom
Google took off the video minutes after uploading it
So, things went unnoticed and Google unintentionally leaked the new Nexus device ( Yayyy!!! ). Finally some light has been thrown on the new device, and people all over the world have been give some direction to narrow down the Nexus rumors.