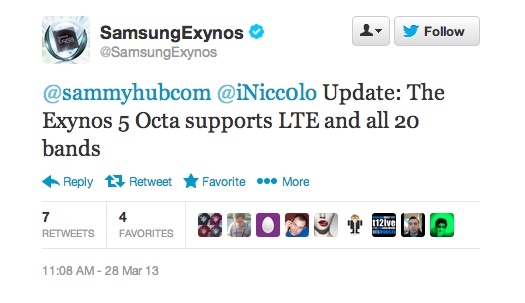 Samsung has recently tweeted that Exynos 5 Octa will support 20 bands of LTE. This means that Samsung's own Exynos chips will finally support LTE, and the lack of it so far has forced them into buying chips from Qualcomm for LTE markets in the past. With Exynos 5 Octa and beyond they will finally be able to use their own chips in LTE markets, too.
With the rise of LTE in US and in a few other countries, and being caught off guard in regards to LTE support for their own chips, Samsung has been forced to use Qualcomm's chips in these countries, where LTE was a big deal, and launching a device without it would've been unacceptable.
Since Samsung is the biggest smartphone manufacturer, and the LTE markets have kept growing, as well as the number of users of LTE, this also meant that Samsung has directly helped one of their competitors for their mobile chip division, to become the dominant player in the mobile chip market.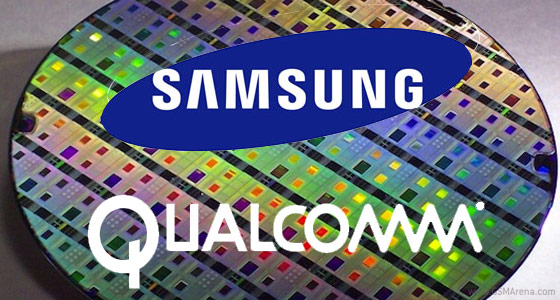 This situation is certainly not good for Samsung, and it's not even good for consumers in the long term, as having a monopoly in one market usually ends up hurting the consumer. It's bad for Samsung, too, because instead of saving money by using their own chips, they are sending all that money to a competitor. Also, with Qualcomm becoming bigger and bigger, they will get the best engineers, the best know-how, and eventually they will force Samsung, and other OEM's to buy their chips at higher prices.
But now that Samsung's own Exynos 5 Octa chips are going to support LTE, I believe we're going to see Samsung use their own chips more, and Qualcomm's chips less. But this will not happen in the first part of the year and with the first batch of Galaxy S4 units. But we should see it later in the year, and in other Samsung devices, too, such as the Galaxy Note 3.
[Via
Droid-Life
]