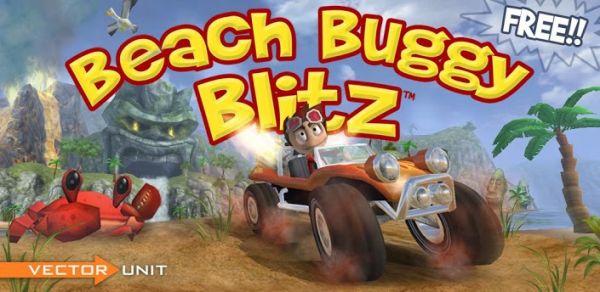 Beach Buggy Blitz is a racing/runner game for Android 2.3+, BlackBerry 10, and iPhone 3GS+ that is free, fun, and addicting.
Beach Buggy Blitz is a free app for all the major phone operating systems, besides Windows Phone. You can however buy coins through in-app purchases, but it is unnecessary.
 Beach Buggy the Game
The idea is simple – get as far as you can with your Beach Buggy. You start out with 30 seconds on the clock, and as you pass through checkpoints you gain time. Some checkpoints give more time than others, as not all track segments are of uniform length (or difficulty).
Each obstacle you hit slows you down, and there are lots. Huts are among the most common for the beach areas, and slow you right down to a crawl – wile seagulls don't have any noticeable effect. Traveling through caves there are rocks and stalactites (rocky icicle looking things), wile the swamp and dock have narrow roads.
These different maps are generated at random locations, and if you have a great run you might even make it through each one. The beginning is always the same, but after that sometimes you'll get the Swamp, other times it's the Docks.
If tough controls bother you, you'll have no need to worry here. You can steer by either tilting, touching the edges of the screen, or using an on-screen D-pad. Acceleration is done automatically, and braking is through on-screen buttons.

Fun with friends
This is one of the first apps to support Google's Play Game Services integration (for Android). Touch the 'G+' logo from the main screen, select your Google account, allow permissions, then presto! You can play with your friends!
Buggy Tips
The original Beach Buggy is actually quite good – it's well balanced between speed, handling, and toughness. You can upgrade you car depending on your preferred play style – I'm currently riding in the Lambini, the incredibly fast speedster…but it slows down a ton whenever you hit anything. If you prefer to tank through obstacles however, the Rock Stomper might be more your cut of tea.
It takes a long time to get enough coins to upgrade anything past their tier 2 upgrade, so I'd suggest getting the double coins in-app purchase. It costs $2, but it's always great to support great developers such as Vector Unit. You can also get packages of coins starting at $1, but it's just not as fun. There are also some Beach Buggy Blitz cheat codes, but it's best to support the developers instead of using a Beach Buggy Blitz coin cheat.
At the end of the day, Beach Buggy Blitz is a free game that allows you to challenge your friends. If you choose to purchase coins in-app, you can get a speedy head start on your upgrades. It also works as a 'pass and play' type game, and you can view the trailer below.