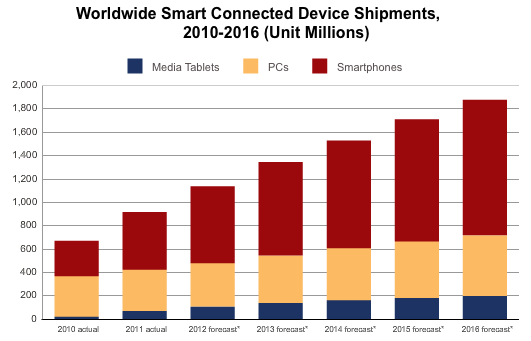 IDC has released their latest report on the mobile market, and according to them over 1 billion smart connected devices have been sold in 2012, which is an increase of 29.1% from the previous year. This big jump in the sales of smart connected devices came thanks to a 78.4% boost in tablet sales last year.
IDC also predicts that tablets will be outselling desktop PC's as soon as this year, with laptops starting to be outsold by tablets just a year later. The desktop and notebooks markets are expected to remain flat for now, but they are expected to keep shrinking through 2017.
This year the tablets are expected to see 190 million unit sales, and a 48.7% increase compared to last year.  Smartphone shipments are expected to grow by 27.2%, up to 918 million units. Smart connected devices such as smartphones and tablets are expected to reach 2.2 billion units sold per year by 2017, when the tablet and smartphone growth is expected to slow down to 9.8% and 8.5% per year.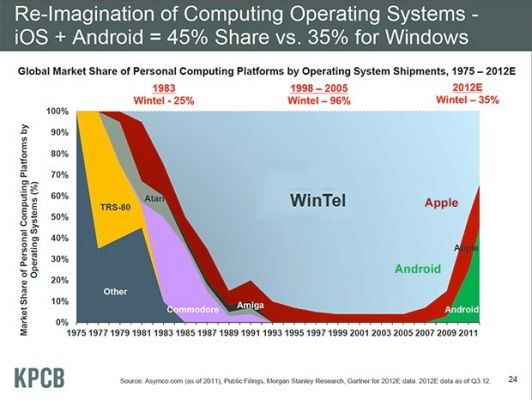 This trend should be a big worry for Microsoft, because their business relies on PC's in a proportion of 98%. If PC sales go down, so will Microsoft's revenues. This might not be a big scare if Microsoft would be able to take a big chunk of those smartphone and tablet sales, but there's no indication right now that this is going to happen. Their market share in smartphones has stagnated at 2% or so, and their tablet sales have been disappointing and much lower than they expected, too (up to 5x lower).
The developers seem to be deserting Microsoft, too, most of them now developing for iOS, Android or the web, and any of those doesn't help Microsoft at all, if the developers start making Windows applications.
The biggest threat to the Windows ecosystem is going to be Android, as it's open source, free, and any manufacturer can use it, without adding an expensive license on top of the machine's price. Plus, its much lower spec requirements, make Android work even on $50 devices. This makes Android a much more suited operating system for the future growth markets such as India, China and Africa, where billions of people are going to buy their "computing devices" in the next decades.
Android's potential on the PC should also be a significant threat to Windows on PC, especially as Microsoft keeps chasing PC users away from Windows with the new "Metro" direction they've taken lately. People will start to prefer other options in the future as other operating systems become more capable, and don't see Windows as their main choice anymore.
[Via
Techspot
]