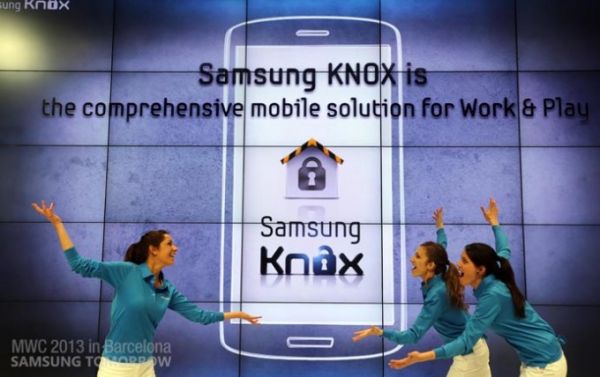 The Samsung Knox security software suite was supposed to launch in the same time with the Samsung Galaxy S4, since it should be part of it, but it seems Knox will not be ready for release until July.
What is Samsung Knox?
The Samsung Knox software suite is completely isolated from the rest of the phone so it keeps work data protected from your personal apps. This is a play for the whole BYOD (Bring Your Own Device) movement, which means more and more people are using their own devices for work. However, that could leave enterprise data open for attacks, or even the possibility of having your phone stolen or losing it. Knox is designed to keep everything work related contained in its own virtual machine.
Samsung for Business
Samsung doesn't seem content to "only" own a big part of the consumer market (30% right now), but also wants to displace companies like Blackberry and Apple in the enterprise (which has also grown very fast in enterprise in the past few years, thanks in part to BYOD, but also to executives who got used to their iPhones).
The enterprise market has very different needs than the consumer market, so it's harder to just say that "Android" as a platform can work in enterprise. Those companies need certain insurances from the company making the phones, which is why we'll see companies like Samsung and Google's Motorola offer different services for this market, and try to win not just Blackberry and iPhone using customers, but also from each other.
Knox Delayed for Samsung Galaxy S4
Samsung can't just release the Knox feature for their Galaxy S4 devices until they are sure it's 100% ready and secure, otherwise it might kill their security software brand before it even gets off the ground. This is why they've decided to delay its launch until July this year.