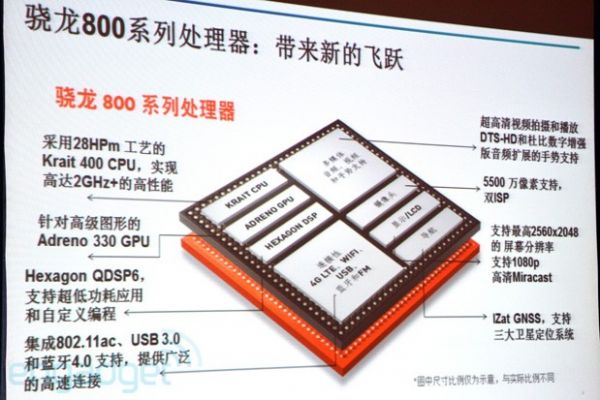 The long awaited Qualcomm Snapdragon S800 chip is going to start being mass produced at the end of May, which means it should arrive in devices at the end of the summer, or in fall.
Qualcomm Snapdragon S800 vs Qualcomm Snapdragon S600
These two chips are the main chips of Qualcomm for 2013. They have others, too, for the low-end of the market, but those are not promoted much in the media, considering only the Snapdragon S600 and Snapdragon S800 will appear in the so called "quality" devices this year.
Unlike the Qualcomm Snapdragon S600 chip, which is based on the "Krait 300" design, the Snapdragon 800 series is based on the "Krait 400" design, which could simply be a brand name that says it can sustain 2.0-2.3 Ghz clock speeds, and not be much different otherwise compared to Krait 300. However, I assume and hope they made it a bit more efficient, so for example, the S800 at 2.3 Ghz wouldn't consume more power than the S600 at 1.9 Ghz.
That would be the logical thing to do, but some chip makers have forgotten about the power consumption priority, and are compromising more and more towards more performance, to win benchmark races and media attention. But in the long term, powering devices that have a long battery life, is going to get them a lot more popularity, too.
Snapdragon S800 vs Exynos 5 Octa
These two chips should be the most discussed and most popular in the second part of the year, as I believe Samsung will increase the production of the Exynos 5 Octa chip for the Galaxy S4, once it gets LTE integration, and it will also start using it in more devices such as the next generation Galaxy Note 10.1, the Samsung Galaxy Note 3, the next ARM Chromebook and so on – all with higher clock speeds than the (international) Samsung Galaxy S4 (which is clocked at 1.6 Ghz).
Which will be better? We've yet to see any review of the big.Little set-up, so we don't know how well that works yet in practice. But I expect power consumption to be about on par with the Qualcomm Snapdragon S800, especially since I have a hunch this one will be slightly less efficient than the Qualcomm S600. The Qualcomm Snapdragon S800 feels like it was designed for tablets and notebooks, as part of Qualcomm's ambition, rather than smartphones, but it wouldn't surprise me at all to see it in smartphones, too.
In terms of CPU performance, it depends on how high the Samsung Exynos 5 Octa CPU will be clocked. From Nvidia's own benchmarks (that you can see above) we notice that the Nvidia Tegra 4 (a 1.9 Ghz Cortex A15 CPU) can beat Qualcomm's 2.3 Ghz S800 processor, so an Exynos 5 Octa processor at 1.9 Ghz should beat it, too.
As for GPU performance, I expect the Adreno 330 (which is part of the S800 SoC) to only be about 50% faster (as the name implies) than the Adreno 320 inside the S600 SoC.  In the mean time, Exynos 5 Octa's GPU should be significantly faster, unless Samsung keeps it clock lower than it should, on purpose.
Qualcomm is riding high lately in the mobile market lately, so I don't expect a slight performance difference from the Exynos 5 Octa to disrupt their sales this year. Things should get a lot more interesting in 2014 and 2015, when all chip makers will be switching to brand new 64 bit ARMv8 CPU's, and new GPU's too.