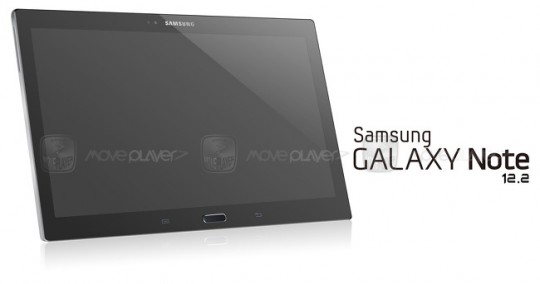 After having seen the Samsung  Galaxy Note III, and Galaxy Gear devices, you may have thought that that was all Samsung had up its sleeve for the near future. Little did you know! Recently-found evidence points to something big that is being planned by the Korean Electronics giant. Big like a brand new slate. In fact, a 12.2 inch, Android-powered one. Welcome the Galaxy Note 12.2!
According to our source, the tablet is to join the expanding Note series. There are no clear specifications yet, just the render above and the tip that it is supposed to be dubbed Samsung Galaxy Note 12.2. Now, although that is not a real photograph, it does inspire some confidence in the device's near release.
Based on its affiliation with the Note series, we are guessing the tablet will feature an S-Pen and the related software suite – which Samsung generally provides with the TouchWiz UI on the Galaxy Notes. We also feel that an improved multitasking system would be great, considering that this slate features a big screen. Android 4.3 preinstalled would be a nice touch, too.
The tablet is also predicted to sport a 2560×1600 WQXGA LCD display. It is somewhat strange that the render features a physical Home button at the bottom – that is something that is prominent in Samsung smartphones, phablets, and 8-inch tablets, but never featured on their bigger devices before. In fact, that makes one wonder what else has been tweaked. It is possible that we will hear more about the device soon – and hopefully, as soon as the 4th (at the IFA conference). This is not the first time we have heard of Samsung working on a tablet this size, but this is definitely the first time we got to see some evidence.
We certainly are amped to see the release of the Samsung Galaxy Note 12.2, not to mention the other amazing devices which are to be released in near future!