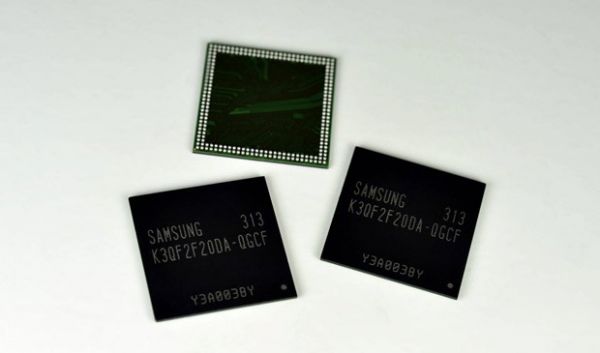 Samsung has just announced that it has begun the production of 4Gb LPDDR3 RAM, which promises PC-like performance for rich multimedia applications.
What this means in technical terms is that the chip will have 2,033 Mbit/s bandwidth per pin, compared to 800 Mbit/s that their LPDDR2 RAM had before, so it gets more than twice the speed. It can transmit 3 Full HD videos at the same time, that can be 17  GBs in size, in one second.
The chip is being made at a 20nm process, and it should offer a 30% improvement in performance, and a 20% power reduction, in comparison to a 30nm LPDDR3 RAM.
"By providing the most efficient next-generation mobile memory with a very large data capacity, we are now enabling OEMs to introduce even more innovative designs in the marketplace," said Young-Hyun Jun, executive vice president, memory sales & marketing, Samsung Electronics. "Our 20nm-class four gigabit mobile DRAM provides another example of our ability to deliver well-differentiated, high-performance, high-density memory to customers in a timely manner."
Samsung has made 2 GB packages of this LPDDR3 RAM, but OEM's will be able to use two of them if they want, which is what I'm assuming some manufacturers will be using next year, as soon as ARM chips go 64 bit. They'll need to make the move to 64 bit compelling right away, and using 4 GB of RAM in a device will be one way to do that quickly, without waiting around for apps to be 64 bit, to sell the benefits of 64 bit chips. The good news is that by the time the apps will be ready, everyone will have a 64 bit device.
Samsung's new LPDDR3 RAM should start being available in products later this year, quite possibly in the next-gen Samsung Galaxy Note 3, Google Nexus 11, and the Samsung Galaxy Tab 11.
Samsung is the leader of the DRAM market, and these new improvements should help maintain its leadership, especially for its new flagship devices. According to Gartner, the DRM market is expected to grow 13% year-over-year, to $29.6 billion this year, with the mobile DRAM market representing over $10 billion of that, or 35% of the market.