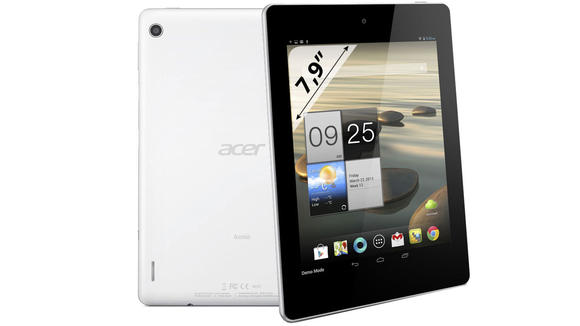 Acer Iconia A1 is Acer's latest attempt to compete with the Apple iPad Mini, and offering relatively similar specs, but for about half the price.
The specs of the Acer Iconia A1 include:
Operating System: Android 4.2 Jelly Bean
Processor: MediaTek MT8125 (quad-core, 1.20GHz, Cortex-A9)
RAM: 1GB
Internal storage: 8GB/16GB versions (11.8GB free to the user in the latter)
Graphics: PowerVR SGX
Display: 7.9-inch 1024 х 768 pixel, capacitive IPS
Connectivity: Wi-Fi 802.11a/b/g/n, Bluetooth 4.0
Cameras: 5-megapixel auto-focus rear camera, recording 1080p video and a VGA front camera
Sensors, other connectivity: GPS, accelerometer, gyroscope, 3.5mm jack, MicroSD card slot, Micro USB 2.0
Battery: 3250 mAh battery
Thickness: 11.10 mm
Weight: 460 grams
The CPU is quad core ARM Cortex A9 at 1.2 Ghz, which should compare favorably with the iPad Mini. The GPU model is not given, but it's supposed to support 1080p video, so it shouldn't be too bad.
It's hard to evaluate the quality of the display from the specs, but it is an IPS panel, which means it should be pretty good, even if it's not as high quality as the iPad Mini. It also has the same size and resolution.
What worries me a little is the battery life. Maybe it wouldn't have been much of a problem if they used Mediatek's quad  core ARM Cortex A7 CPU, at the same clock speed (a bit weaker performance wise, but 4x more efficient) with that kind of battery, but they are using Cortex A9, so the 3250 mAh battery seems pretty small. Even the Nexus 7 has a 4,325 mAh battery, with a similar processor, and it lasts around 8 hours. So I expect this tablet to last around 5-6 hours only.
I also wouldn't expect anywhere near the build quality of an Apple iPad Mini, for the fact that the iPad Mini is made of aluminum, and this is made of plastic, alone, but also because Acer doesn't have the best track record in building the highest quality devices.
Still the star of the show here is the price of the device, which seems to be around half what the iPad Mini costs in Europe, and it should maintain the proportion when it gets sold in US, too. If you like the size and aspect ratio of the Apple iPad Mini, and you're a little price sensitive then the Acer Iconia A1 should be the Android tablet to get.