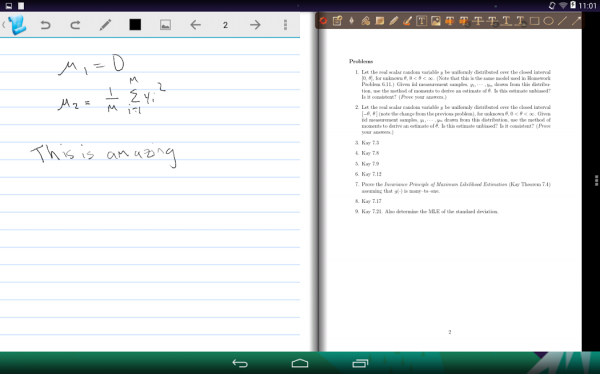 OmniROM is the Cyanogen alternative that wants to remain truly open-source, with no commercial interests, much like Cyanogen was in the early days. It's a project that seems to have gained some traction in the ROM community, and announcing built-in split-view (multi-window) support for their ROMs may help them gain even more popularity, especially on tablets.
I've been wanting multi-window support in Android for a long time, because this is one of the things that would've made Android a lot more useful on tablets, especially since Android took a long time to get some decent tablet-optimized apps. Being able to put two apps in portrait mode on a 10″ tablet, would've been much like having two apps on two 7″ tablets in portrait, and phone apps should've looked a lot better this way than a phone app would on a 10″ tablet in landscape mode.
Another reason for why this is useful is making Android a more mature operating systems that can be a serious alternative to Windows. The apps aren't quite there yet to compete with Windows programs, but mainly because hardware hasn't quite caught up yet, but we're almost there. We've already seen devices with 3 GB of RAM last year, and this year we'll see 64-bit chips that I believe are truly desktop-class in performance. So the apps will arrive any day now. But we still need an OS that's optimized a little for the desktop paradigm. Android is pretty far from that right now, especially without any multi-window support.
OmniROM along with companies like Samsung, are trying to fix this severe lack of multi-window support in Android, and they've started working on integrating it, so at least people with rooted devices can enjoy it.
I applaud their effort, as well as the effort of other companies trying to bring multi-window support to Android, because at least it raises the awareness that there's a demand for this, and Google will hopefully take it more seriously. However, there are some issues with pretty much every such effort I've seen.
Some of them don't show the app full in its own window, but only a part of it, like OmniROM seems to have done it, and that's disappointing, because it's not much use to see only part of the app you want to use.  I'd much rather see everything contracted a little bit, than see only half or less of the app.
Others, if not all, seem to have pretty big performance issues with their multi-window functionality, too. That probably happens because Android wasn't built with real-time multi-window support in mind, and some core functionality will need to be changed to make it work. This is why I think it's going to be Google the one that truly solves the multi-window support in Android, and my only hope is that it will come sooner rather than later (Android 5.0 would be a perfect match).