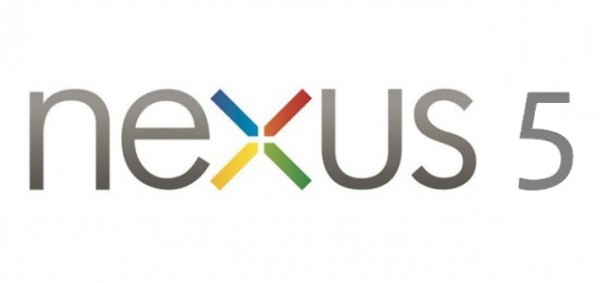 There are two pieces of news about the Nexus 5 today. Firstly, the Nexus 5 is (partially) visible on the Google PlayStore and secondly, a possible Nexus 5 retail packaging has also been leaked which shows an all new white colored variant of it's counterpart.
Nexus 5 visible on the Playstore 
After many, many leaks we've finally got an official appearance of the Nexus 5 via the Google PlayStore. Apparently, the Nexus collection on the PlayStore also lists the Nexus 5, along with the official description "Capture the everyday and the epic in fresh new ways". Alas, the phone's actual listing is grayed out or unaccessible. Here is the image taken from the PlayStore below.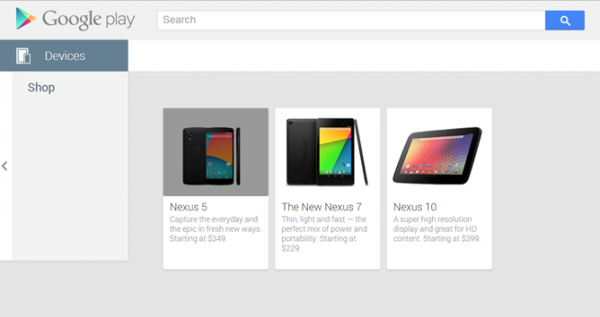 So far, we can tell that from the Nexus 5's description, the device will start at $349 for the 16 GigaByte version and this means that the 32 GigaByte listing that we had seen in the leaked service manual would probably sell for $400 or above.
With the Nexus 7's description focusing more on the portability of the device, and the Nexus 10 highlighting it's signature display, we can expect a really decent camera from the to-be announced Nexus 5 from it's description. But, otherwise there is not much information to glance on from a single webpage. But, if you still want to check it out(while it lasts), you can from here. There has also been a leak from one of Google's own servers which provides us with a full image render on the Nexus 5. Feast your eyes below.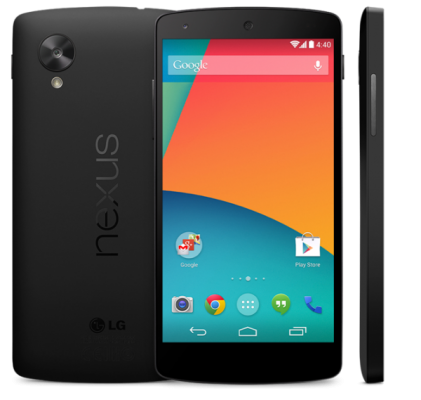 Possible Nexus 5 retail packaging leaked
As I've said before, there has been a numerous number of leaks and this is the latest so far. Earlier, on the 18th of October, a Korean website named 'UnderKG' (in case you couldn't tell through the obnoxious watermarks) posted photos of what appears to be the retail packaging of the LG Nexus 5. The box deviates a little from the original design of the Nexus packaging but still follows the basic pattern.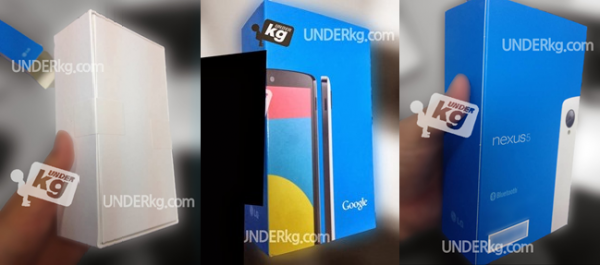 What's more interesting is that the box contains a white counterpart of the Nexus 5 which we haven't seen before. All the various leaks from Google, LG and others point to a color scheme of black or dark grey soft-touch plastic, much similar to the Nexus 7 2013. But the photos on the external box here show a white-on-black color scheme with the rear panel in white and the rest of the phone in black. It's quite similar to what LG did for the white version of the Nexus 4. Also note that the Bluetooth logo is prominently displayed on one of the boxes which is quite odd. Keep in mind that these retail boxes may be specifically for the South Korean market, though any changes are likely to be minor.
With Google's slip-up on the PlayStore and more and more leaks coming every day, it surely can't be too much longer before the Nexus 5 is revealed, and it will almost certainly come out with the Android 4.4 KitKat . We know the specs, we know the price, we know the name, now we just need to know the date…