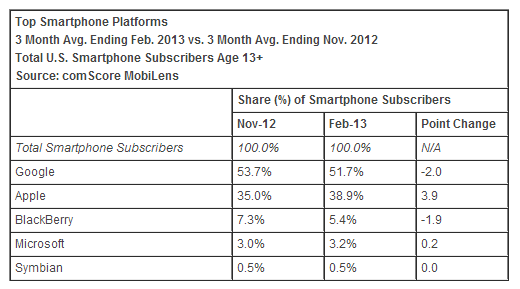 ComScore has published the latest smartphone subscriber data in USA, and it seems the iOS market share has grown another 3.9%, and it's now up to 38.9%, while the Android market share has dropped from 53% to 51%. The Blackberry market share dropped to 5.4%, a 1.9% decrease, while the Windows Phone market share grew slightly to 3.2%.
iOS Market Share 2013
Over the past year or so, the iOS market share has started rising, after the Android market share started stagnating somewhere around 50% (some quarters it's more, some it's less). So the rise of the iOS doesn't seem to be related much to Android's loss, at least it's not evident yet, considering the Android market share is somewhat volatile in USA, depending on what the new iPhone launches, and when devices such as Galaxy S4 and the HTC One start launching in US. So the iOS market share seems to have grown mainly from the decline of the Blackberry market share.
In 2013, I think we're going to see the  market share of iOS grow to 40% or so, and stabilize there. The Blackberry market share will probably drop down to 2-3% by the end of the year, while the Windows Phone market share will probably slightly more, too. It's also possible that the Apple iOS market share (in smartphones) will climb to 45% or so during the launch of the next iPhone, but drop later to 40% again.
iOS vs Android Market Share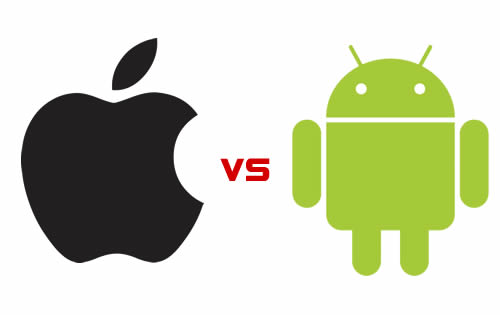 The Android vs iPhone market share battle will not end anytime soon, at least in US. Globally, Android risen as a pretty clear leader, with a 70%-75% mobile OS market share. I don't think there's any going back on Android's market share. The global iOS market share seems to have stabilized around 20%. There is still a little bit of room for other operating systems to grow such as WP8, Firefox OS or Ubuntu Touch, but there's maybe 10% only that they can split between each other. Both Android and iOS are here to stay.