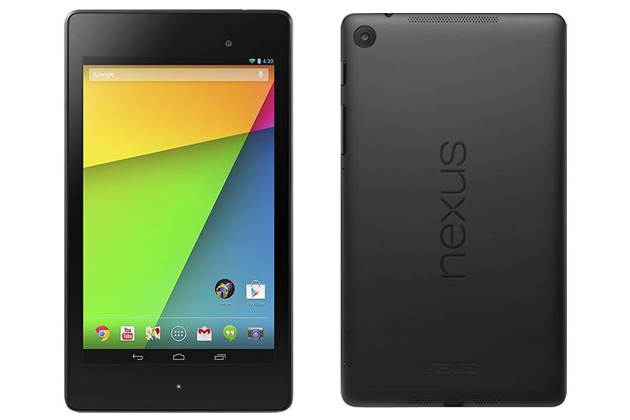 Everyone who knows anything about Android will tell you that there's only one clear winner, if you're looking for the best small Android tablet right now. That tablet is no other than the Google Nexus 7 (2013 edition).
Google really outdid themselves this year with the new Nexus 7.  In fact, they outdid not just themselves, but everyone else in the industry, including the Apple iPad Mini, and pretty much every review out there will confirm that the new Google Nexus 7 is not just a good budget tablet, but it's the best small Android tablet out there. So let's take a look at what makes the new Nexus 7 so great.
CPU: quad core 1.5 Ghz Qualcomm S4 Pro
GPU: Adreno 320
Display: 7″ LED-backlit IPS LCD, 1920×1200 resolution
RAM: 2 GB RAM
Storage:  16 GB (about 12 GB free)
Camera: 5 MP, 1080p@30fps,
Front-camera: 1.2 MP
Connectivity: Wi-Fi 802.11 a/b/g/n, Bluetooth 4.0 A2DP
USB: microUSB (SlimPort) v2.0
Weight: 290g, 299g (LTE)
OS: Android 4.3
Google Nexus 7 (2013) Performance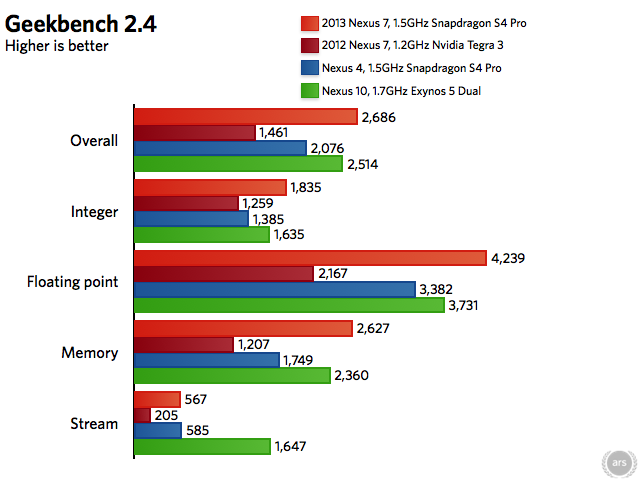 The Nvidia Tegra 3 chip inside the old Nexus 7 was an okay chip, and was pretty good performance wise. If anything, what hurt the Nexus 7 performance-wise most was the lack of TRIM support in Android 4.1 and Android 4.2, which made the Nexus 7 feel slow after a certain period of time, because when you were deleting stuff from the tablet, you weren't actually deleting it, so the storage became slower and slower. But Android 4.3 fixed all that, because it introduced TRIM support.
The new Nexus 7 with its Qualcomm S4 Pro chip is much faster because it features a new CPU architecture that's more modern and faster than the Cortex A9 inside the Tegra 3, and also it has a higher clock speed of +300 Mhz. This makes it about 80 percent faster than Tegra 3 CPU wise.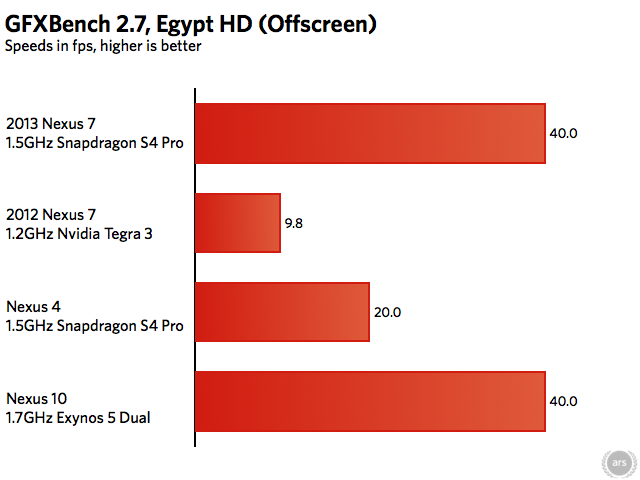 GPU wise, things are even better, as the GPU is 4x faster than the one in the first Nexus 7, although the actual GPU speed should be 2x faster, because everything is now running at 1080p, and that's roughly 2x more pixels than the first one. Still great improvement all around, and the tablet is very speedy.
Display Quality
The new Nexus 7 has probably one of the highest quality displays on the market. It has 323 PPI, so it's very sharp. It also has bigger color gamut than most displays out there, and the colors are very accurate, too. The first Google Nexus 7 had a pretty mediocre display, quality wise, although the 1280×800 resolution wasn't too bad for that screen size (higher than Apple iPad Mini's resolution anyway). But the 1920×1200 one should really make the screen very sharp. The display should be one of its most impressive features.
A Must-Buy Small Android Tablet
The performance and the display quality is more than you can ask for in such an affordable $229 small Android tablet. You really can't go wrong with this device in terms of specs for the price, and it should also receive updates directly from Google for at least 18 months (Google has a good track record for Nexus devices to prove that). The new Google Nexus 7 is the best small Android tablet, hands down.