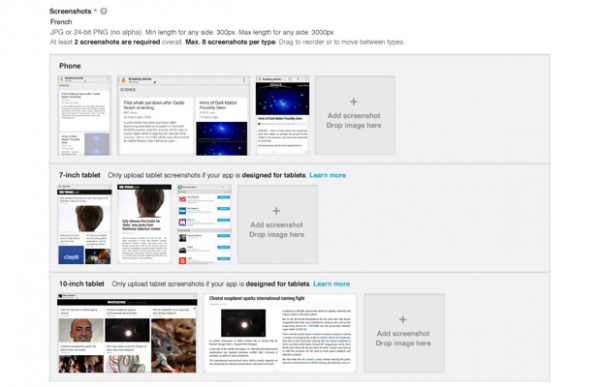 Google has finally started to create ways to encourage developers to make Android tablet apps, after many years of ignoring tablet applications, and thinking they are just the same as the phone apps.
Android Tablet Apps Screenshots
Google is giving the developers the ability to put screenshots of their tablet applications on their app page on the Google Play Store. This is hopefully just one of the many such incentives that Google is going to give Android developers.
Such incentives make developers actually want to optimize their apps for tablets, because users will see before even downloading the app, that it works well on tablets, too. Without this, the developer could've put in the extra work to make the app optimized for tablets, without getting any reward for it, because users wouldn't be aware his app looks great on tablets. This action from Google fixes this problem, but they need to do a lot more about this.
Even More Incentives for Android Tablet Apps
They could give developers a certain badge on their page, saying that the app is optimized for tablets. They could also expand the tablet apps categories, because right now it's very limited, and most people might not even notice their single tablet category. Since there are so few apps in the tablet category right now, this could actually be an opportunity for developers to promote their apps in a very uncompetitive space on the Google Play Store, and it could make them want to make Android apps for tablet that much faster.
The Google Play Store is so far behind the iPad in terms of number of tablet apps right now, and it doesn't look like it's going to catch up with it anytime soon, certainly not if Google doesn't try to encourage developers a lot more to build Android tablet apps. That's why it's so important developers get all the incentives they need to start building those tablet apps.
XDKUNNNY9W7T