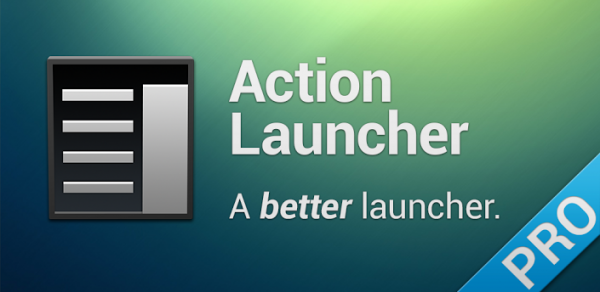 I've always loved Android's customizability, and launchers are a great way to give your phone a more personal touch. My favorite is Action Launcher Pro, as it's smooth, offers unique features, and minimalist.
What do launchers do?
A launcher is software that you download from the Google Play Store, in app form. Then, you can set the launcher to the default action when you press the home button. So, in essence, it is an alternative app that replaces the standard home screens setup. Different launchers do different things – some tweak the app drawer as well, others also modify the lock screen. Some entirely change the experience, others leave it the way it is and just add features.
The most popular launchers right now are Nova Launcher, ADW Launcher, and Go Launcher. Action Launcher is also becoming popular among a certain crowd, but it isn't one of the newest launchers for android either.
What makes Action Launcher unique?
The standard app drawer for most phones is accessible through a tap on an icon, the same way traditional desktops work. Chris Lacy (the developer) switched things up a bit and put the app drawer on the left, accessible through a scroll from the left extreme on any home screen. He's turned a hierarchy organizational system onto a flat screen, which really is pretty neat. You can see the 'app drawer' in the right 2 images below, which is tabbed 'APPS', and 'WIDGETS'.
Action Launcher PRO leaves the main screens mostly untouched, but does have a bar at the top containing a button to access the 'app drawer', a search button, a Play Store shortcut, and a menu button which drops down into 'Lock Desktop', 'System Settings', 'Manage apps', and 'Settings' options.
As far as added features go, Action Launcher is on the lean side. It really only offers 2 exceptional tweaks – covers, and shutters. A cover is a folder, rethought. From a traditional folder, you have the option to make it a cover. This makes the folder appear as an app (uses the first icon in the folder), and act as an app until you either swipe up or double tap it, which will open the rest of the folder. A shutter is when you swipe up on an app icon, opening it's widget on the home screen in a box on top of everything else.
As you can see above on the first image on the left, I have 9 covers, 1 widget, and 1 app on my first home screen. Shutters are indicated by the small square on the bottom right of an app's icon.
Alternative actions
To go along with Action Launcher PRO's horizontal swiping setup, I found the app GloveBox which is like a folder hidden on the right side of your screen, accessible from a swipe from a specific edge of the screen. I've got mine set for the right upper edge, just above the keyboard (so it doesn't interfere with using the 'p', 'l', or backspace keys). Together, these apps make for a truly unique horizontal scrolling experience. Below you can see how GloveBox looks when activated. Drag your finger to the far left (as I have in the picture) to simulate a home button press, or slide up/down to an application to launch it. GloveBox works at a system level, so even works when in other apps.
Information about Action Launcher PRO
Chris Lacy developed Action Launcher Pro for Android devices running version 4.0.3 and higher. The Action Launcher apk is available on the Google Play Store for $3.99, but when it comes to usability vs cost, in my opinion at least it's well worth the money. For $4 I can get a launcher that I will use for the next year at least, and I'm going to use it daily. It is rated 4.3 stars, has between 10k-50k downloads, and is on current version 1.7.1.
I'm a huge fan of Action Launcher PRO, and other tech bloggers such as Phil Nickinson (Android Central) are advocates of this launcher for Android as well. It changes the way I interact with my phone in a more unique, stylish, and efficient way. Below is Chris Lacy's video demoing Action Launcher, with special emphasis on shutters, and covers.