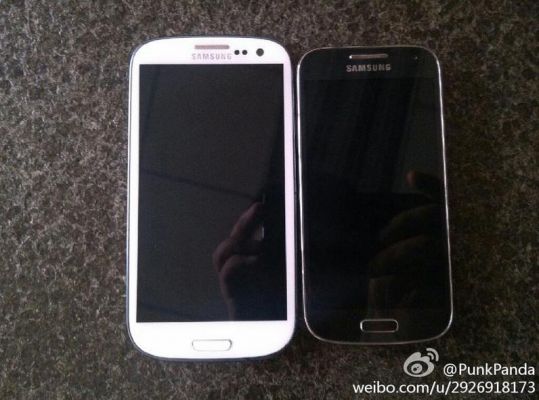 The Samsung Galaxy S4 Mini has been rumored a while ago, and now it's all but confirmed with these latest leaked specs and images. 
We've known, and we could assume anyway, that the Samsung Galaxy S4 Mini will basically be identical to the Samsung Galaxy S4, at least in terms of looks. Specs wise, it should be lower-end, to cut costs and drop the price. However, it does seem like it will use a pretty decent processor. It's basically the same as the one in the international version of the Galaxy S4, but with half the cores, for both CPU clusters (2 cores 1.6 Ghz ARM Cortex A15 and 2 cores 1.2 Ghz ARM Cortex A7). The processor is called Exynos 5210.

It also looks like the Galaxy S4 Mini will have a 4.3″ Super AMOLED display with a 960×540 resolution and 256 PPI (not quite "retina" – it should've used a 720p resolution for that). It will also have 1 GB of RAM for 3G markets, and 2 GB of RAM for LTE markets, which looks like a random way to choose how much RAM to give them. I suppose it's because in those 3G markets they want to cut costs, and also because they don't use their browsers as much, therefore more RAM is not needed.
Then the leak also shows 32GB of internal storage, which seems quite a lot for a "mini" device, but maybe Samsung intends to make that the minimum amount for all their devices in the future – and an 8 MP rear camera, and 2,100 mAh battery. Strangely enough it shows Android 4.0 as the OS it's running, but I find that very hard to believe, and it will most likely use Android 4.2 and Nature UX 2.0, just like its bigger brother.
The Samsung Galaxy S4 Mini will not be the only variation Samsung will be doing to Galaxy S4, and there's also the Samsung Galaxy S4 Active (the ruggedized version) and Samsung Galaxy S4 Zoom (the camera-focused one), which is probably the most exciting of the bunch, so stay tuned for more news on these Galaxy S4 models.