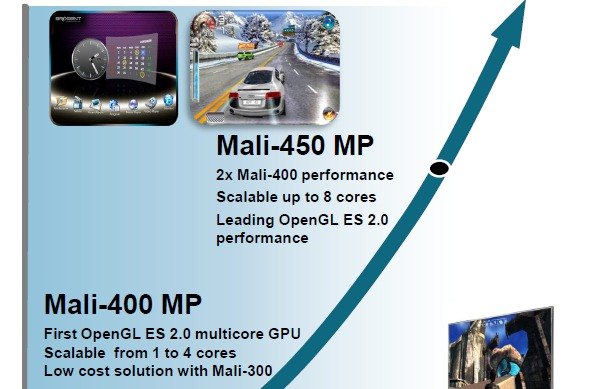 The Samsung Galaxy Note 3 might go back to using a Mali GPU (specifically the ARM Mali-450), after the Samsung Galaxy S4 took a short detour for an Imagination PowerVR SGX543 GPU. So what's the deal here?
When the Samsung Galaxy S4 was rumored to use a PowerVR SGX543 GPU, just like the iPhone 5, but with higher clock speed, everyone wondered if Samsung gave up on using ARM Mali GPU's, and why would they do it? Many speculated that this is because Imagination "won" the GPU battle, so Samsung, being the leader of the smartphone market, just wanted to use the best, and not always be behind Apple in GPU performance.
But now, new rumors say that Samsung is going to turn to ARM Mali GPU's once again, merely half a year after using it in the Samsung Galaxy S4, and use the ARM Mali-450 GPU in the upcoming Samsung Galaxy Note 3 flagship. This makes me think that all the initial speculations were wrong, and Samsung only wanted to use that specific PowerVR SGXMP3 GPU on that specific device, and doesn't intend to replace the Mali GPU's with the PowerVR ones across all of its products.
The ARM Mali-450 rumor is pretty strange, though. It's an 8 core GPU, something which was known, but it was also supposed to be a mass market chip, not one that was intended for the high-end flagships. For the Samsung Galaxy Note 3 I would've expected something like the ARM Mali-T628, which is also an 8 core GPU, but of much higher performance. The Mali-450 doesn't even support OpenGL ES 3.0, being a pretty obsolete GPU in terms of architecture.
So now I wonder whether this particular rumor is only half right (the 8 core part), or if Samsung intends to use the Mali-450 at a much higher clock speed than its default speed, to make it competitive enough for a high-end mobile GPU at the end of 2013. Or it could be that Samsung just doesn't think it needs a high performance GPU in the Galaxy Note line of products, and wants to save a few bucks.
I believe that would be a huge mistake on their part, which is why I hope one of my first two assumptions is right instead, and it's going to use an ARM Mali-T628 GPU (ideally) or a (very) overclocked ARM Mali-450 GPU. If it's the latter, as the rumor implies, then Samsung has taken some very strange GPU decisions this year.