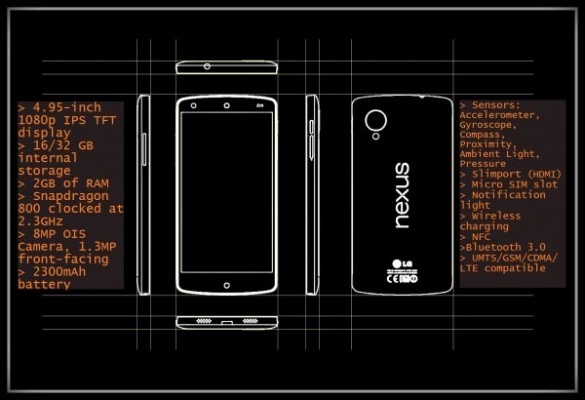 Rumors, rumors, everywhere; Finally something confirmed. Out of so many rumors, and images we finally have something that seems to be an official draft of the Service Manual for LG D821 ie the Google Nexus 5. Though it is still a draft and not the final thing, but its a September version, so it must be close to the actual thing. Such a document is only for training and service purposes, and is meant for internal use only, but surprisingly this thing came to the public even before the phone.
The document provides information for disassembly of the device, details about its various chips, how are they connected, along with their circuits and flow charts. It can be considered as an engineer's 281 page reference book for the Nexus 5. The specifications confirmed by the leaked document are as follows :
Display: 4.95-inch 1080p TFT
Camera: 8MP OIS Rear, 1.3MP Front
Dimensions : 133.9 x 68.7 x 9.1 mm
Internal storage: 16/32 GB (SDRAM, DDR2)
RAM: 2GB
Processor: 2.3GHz Qualcomm Snapdragon 800 Quad-core
Battery: 2300mAh
Sensors: Accelerometer, Gyroscope, Compass, Proximity/Ambient Light, Pressure
Compatible with : UMTS, GSM, CDMA, LTE
Slimport (for HDMI output)
Micro SIM slot
Notification light
Bluetooth 3.0*
No External SD
No MEMS camera
Wireless charging
NFC
The Bluetooth would be 3.0 or 4.0 is still a doubt, as Bluetooth certification mentions it to be 4.0. This could be one of the errors in the document, all other specs seem to be in place. The document also reveals loads images of the internal parts of the device, as well as how to open the rear panel to reach them. A few images of the device worth watching are –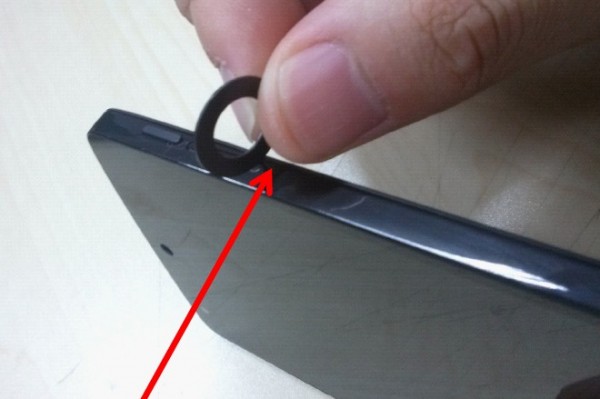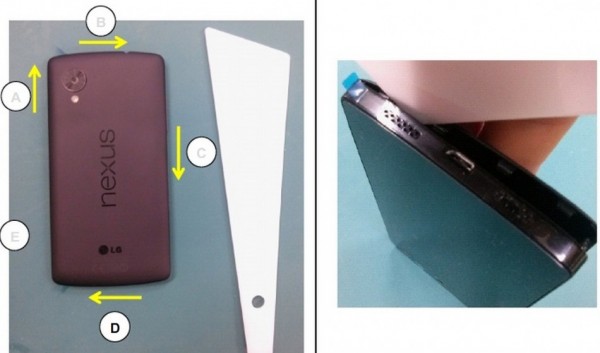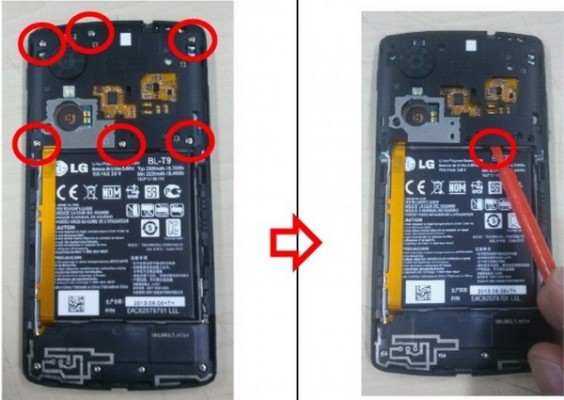 You can go through the document yourself to view more stuff, and see how detailed it is, here. Its just a few days for the device to launch and you can expect the date to be 30th October, though Google might surprise us with 14th as well. So keep calm and keep waiting for the Nexus 5.