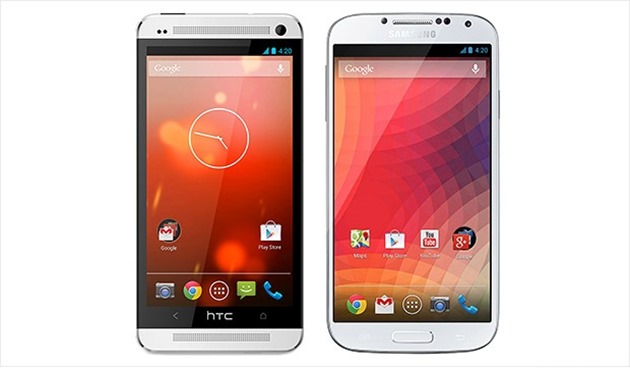 Google announced the Galaxy S4 Google Play Edition at Google I/O 2013, and later the HTC One GPe was also announced, but it took them a while to start shipping them. Now they seem to be finally available for shipping, and if you're ordered one you should receive it soon.
The Google Play Edition smartphones come with stock Android, and according to Google they will get upgrades early:
"The Google Play edition phones automatically receive updates of the latest Android software. Optimized for the latest apps, more storage for your content and a fast, clean user experience all come standard."
It remains to be seen if they will receive updates as fast the Nexus 4, or the upcoming Google-owned Motorola X smartphone, but they should still be receiving updates a lot faster than their Touchwiz/Sense counter-parts. For example, I would expect both of these phones to get Android 4.3 within weeks of the release of Android 4.3 into the wild. I doubt we'll even see Android 4.3 with Touchwiz by the end of the year, and there's an even smaller chance we'll see Sense with it (remember HTC One didn't even launch with Android 4.2, even though it was released about half a year earlier).
In fact, you may even see Android 5.0 on these devices before the year's end, and then everyone will truly see the advantage of the "Google Play Edition" smartphones. Right now it's harder to see that when both Galaxy S4 and HTC One have Android 4.2 already, and on top of all those stock Android 4.2 features, they also have all the TouchWiz/Sense features. So it's hard for people to see what could be the advantage of using stock Android. But once these phones get Android 5.0, the advantages will be clear for everyone.
The Google Play Edition devices can be ordered from the Google Play Store for $599 for the HTC One, and $649 for the Galaxy S4.