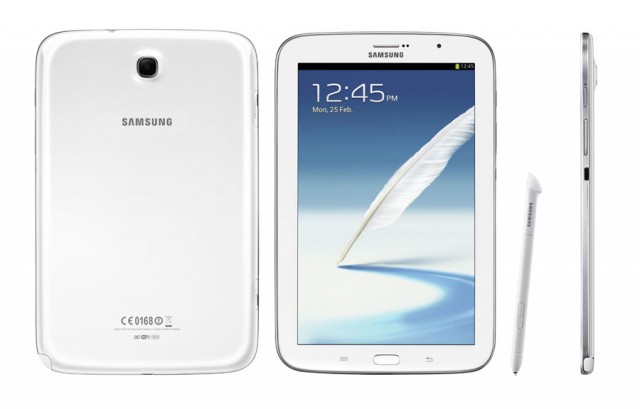 There aren't a whole lot of 8″ Android tablets on the market right, but there are quite a few, and perhaps unsurprisingly the best 8″ Android tablet the Samsung Galaxy Note 8.0.
If you're looking for something a little larger than the recent Google Nexus 7 (2013), which I still believe is the best small budget tablet, even though it's cheaper, then you may want to take a look at the Samsung Galaxy Note 8.0. This tablet  is one of Samsung latest tablets that's meant to compete with the Apple iPad Mini, and it has more or less the same type of specs:
CPU: Samsung Exynos 4412 (quad-core 1.6 GHz ARM Cortex A9)
GPU: ARM Mali 400 (overclocked 2x)
Display: 8″ TFT LCD, 1280×800 resolution
RAM: 2 GB RAM
Storage:  16 GB, microSD up to 64 GB
Camera: 5 MP, 720@30fps,
Front-camera: 1.3MP
Connectivity: Wi-Fi 802.11 a/b/g/n, Bluetooth 4.0 A2DP
Weight: 338g
OS: Android 4.1+Nature UX+some Note specific apps
An 8″ Android Tablet with a Real Stylus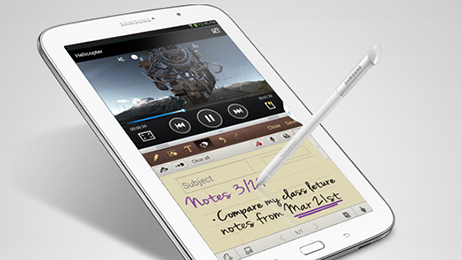 The Samsung Galaxy Note 8.0 is not only a very good all-around tablet, but it also comes with a stylus and active digitizer, which means it has best in class stylus drawing and handwriting technology. The S-pen that comes with the tablet isn't your usual capacitive stylus that's only slightly better than your fingers. The S-pen is very accurate, just like a normal pen, and it also comes with 1024 levels of pressure sensitivity, so you can easily make the lines you're drawing either thicker or thinner, just like you would with a normal pen.
I've been disappointed that no other mobile manufacturer is pushing true active pens the way Samsung is doing it, because for artists and people who like to draw it's really the best way to go when it comes to tablets. But it seems that for now we're stuck with only Samsung providing with an 8″ Android tablet with stylus support, which isn't too bad, but competition is always good, and it would help to have even more units like these being sold, so 3rd party developers optimize their apps for them.
The price of the Samsung Galaxy Note 8.0 is a little steep, at $400, but that's mainly because of the stylus and active digitizer. I still wish it had come with a 1080p screen, though, because all tablets that are released this year should have one, especially if they cost over $300.
But again, if a 7″ screen is too small for you, and you want an 8″ Android tablet instead, then the Galaxy Note 8.0 is really the best way to go, and you also get a real stylus as a bonus.