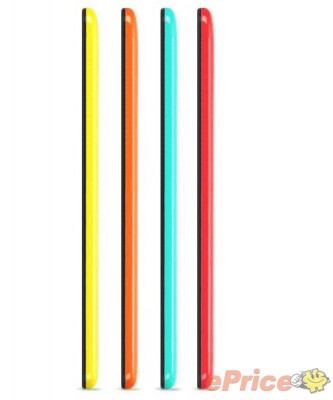 For so long Android OEMs stuck with the "black" color for their smartphones, and most of them only started embracing white after Apple announced a white iPhone. But that trend quickly faded, and I wanted to see Android OEMs adopt more colors, but not just any color. I wanted to see them adopt bold colors that stood out, or fun colors that appeal to a younger crowd. This year we may finally see that happen with more than one Android OEM, and HTC seems to be one of the first to do it (after Motorola last year, of course).
HTC seems to have chosen quite some lovely colors here. My only wish was that they also made it so the color extends to both the front and the back, and not just the back. At least Motorola has the excuse that it has replaceable back covers, but HTC's backs won't be replaceable anyway. They're only saving a little bit of profit, but it makes the phone significantly less appealing than they could be, especially since most of the time you don't see the back of the phone, and neither will other people.
This new HTC Desire smartphone will also come with an octo-core Mediatek processor. Mediatek has done pretty well ramping up the PR for their "true octo-core chip", but I believe this chip is mainly a gimmick. I'd much rather see a chip with a dual-core processor like Nvidia's Denver CPU, than an 8-core one, that has much lower single-thread performance, and not much better multi-thread performance either, because most of those cores will remain underutilized. This chip is not actually a direct competitor to Nvidia's Denver since it's a mid-range chip, but the point still stands.
It seems this gimmick does pretty well in China, though, where they seem to want more and more cores. Even though I don't think this will last in China either, once the customers become more educated about the performance of chips, I think it's a pretty okay move for HTC to launch it in China with this chip. But in their place, I wouldn't repeat this tactic next year.
Otherwise, the phone seems pretty well specced, for its $330 price ( would be more like $250 in US, for those who want a direct comparison). It comes with this 8-core Cortex A7 chip, 1.5GB of RAM, 5″ screen, 7220p resolution, 8MP camera (unfortunately not UltraPixel, too – so no big sensor).
There's one thing about this phone that's extremely disappointing, though: it will come out with only Android 4.3 and Sense 5.5. I can't believe some Android companies are actually going to release low-end or mid-range phones without KitKat in 2014, when they are the ones to benefit most from it. I find any phone released in 2014 without KitKat by default unacceptable.
It's irrelevant whether it will be upgraded to KitKat or not, because then that's going to be the last upgrade anyway (Android OEMs tend to upgrade low/mid-range phones only once), and it's an "upgrade" that it should've had out of the box. I'd rather it came with Android 4.4, and then be upgraded to something new. HTC seems to be really failing at upgrading their devices on time lately, even the ones that haven't even been launched yet. If this keeps up, HTC might not last through the year without being acquired.